Message from the Representative Director & CEO
Information Security Inc. was established in September 2014 with the aim to nurture personnel highly knowledgeable in cybersecurity and highly skilled in forensics to protect Japan's information infrastructure from security threats.
2014 was the year cyberattacks were causing increasingly severe damages. It was disturbing that the idea "a security expert is only able to protect the customer they are responsible for" was the norm for the security industry. Security levels in regional areas were also decreasing due to labor forces becoming concentrated in the larger cities. During this time I saw that providing quality security services even in those regional areas was essential to maintaining and improving Japan's security standards.
This situation motivated me to establish a company in Kobe City which specializes in information security. We started with a small team but now we have welcomed the highly skilled and experienced from large IT enterprises and top foreign internet security companies. Our focus is not confined within Japan but it is directed globally.
I believe in order to provide high quality service, employees need a working environment free of worries. We make effort to increase employee satisfaction. Our employees are provided with adequate leave, naturally, lunch, flexible working locations and work hours and a motivating work environment. We respect the values and lifestyles of our employees and giving them the private time they need away from work increases quality and efficiency during work hours.
Our mission at Information Security Inc. is to contribute to increasing the world's security levels by spreading awareness through protecting our clients' important information and data. We are constantly listening to the needs of our clients, and never stop making effort to protect from and respond to the ever-increasing cases of cyberattacks.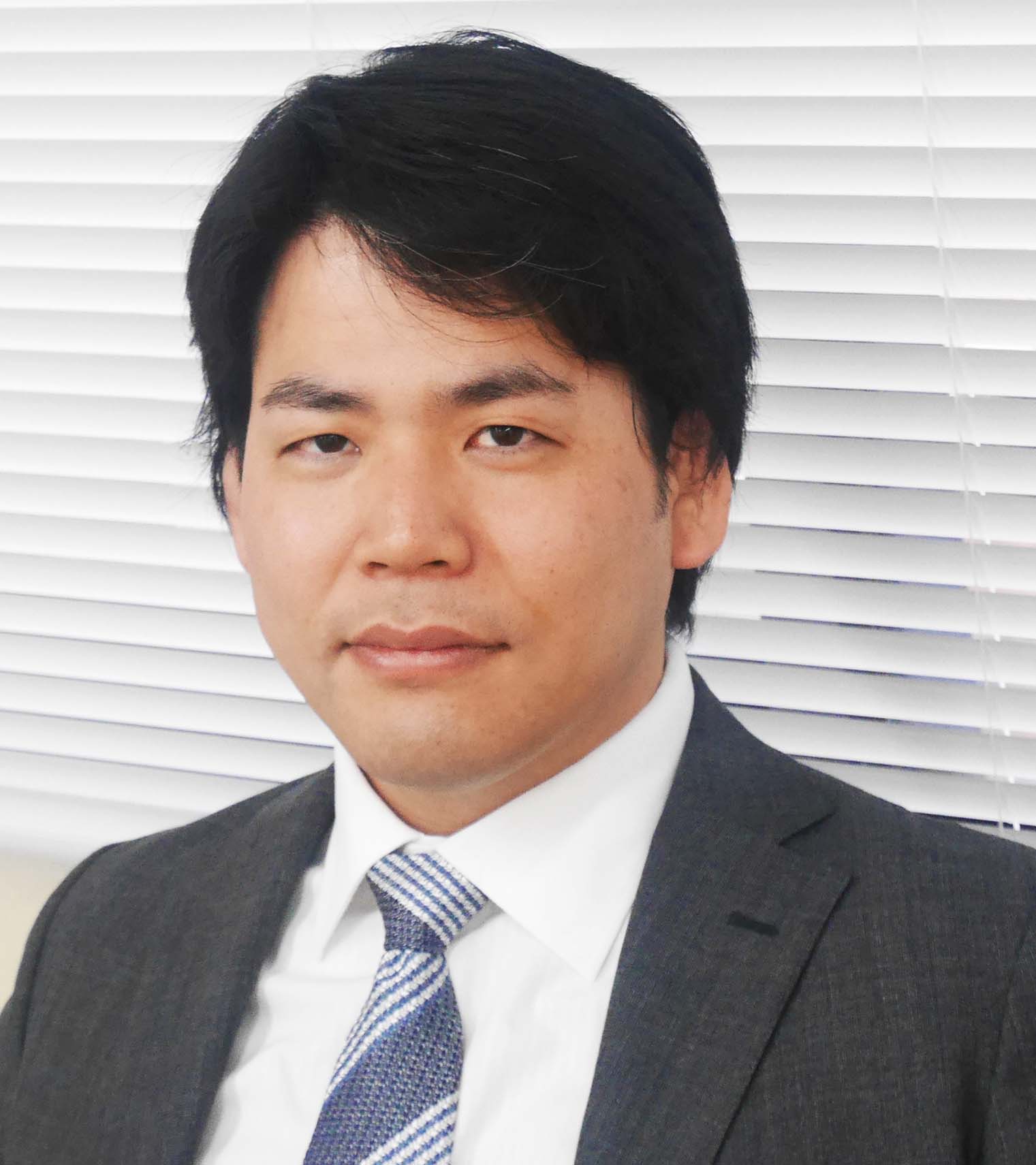 (Short Profile)
Suzuki is a certified information security auditor. Prior to founding the company, he was a system administrator and security consultant at a telecommunication corporation, then CTO at a start-up company. He has provided information security services to the Hyogo Prefectural Government for over 10 years, including security program development, malware statistics analysis, network and digital forensics, penetrations tests and information security audits. Information Security Inc. has continued this service and expanded services to other government ministries, independent administrative institutions, local government bodies and the private sector. He holds a Master of Economics in Statistical Analysis.
Company Overview
Company Name
Information Security, Inc. (iSEC)
Business Areas
a.【Information Security Support】
Handling of all kinds of security framework, Awareness raising, Education, IT Architect, Handling of incidents
b.【Information Security Operations】
Forensics and other security phenomenon advanced analysis, NOC and SOC (Network operations, Log analysis, Malware analysis)
c.【Information Security Development】
Firewall, IPS・IDS, Anti-virus measures, Verification, VDI, Development of encryption and other security products
Date Founded
September 2, 2014
Company Address
・Head Office
3F, 7F, 8F Seihokushin Bldg. 4-9-26 Kitanagasadori, Chuo-ku, Kobe-shi 650-0012 Hyogo Prefecture, JAPAN
・Branch Office
2F Fuji Bldg. 4-5-5 Hongoku-cho, Nihonbashi, Chuo-ku 103-0021 Tokyo, JAPAN
Executive Officers
Representative Director: Yoshihisa Suzuki
Director: Koichi Onodera
Executive Manager: Tomoki Shakudo
Fiscal Year End
March
Associate Company
iSEC Laboratory Inc.
Abbreviation: iSEC-Labs
Corporate Number: 6140001109597
TDB Company Code: 296025131
Main Financing Bank
MUFG Bank, Ltd.
Hyogo Shinkin Bank
Japan Finance Corporation
Contact Details
TEL: 078-381-8980 (Trunkline)
FAX: 078-381-8979
CONTACT FORM: https://isec.ne.jp/inquiry/
URL
https://isec.ne.jp
Partners
Canon IT Solutions Inc. / Dell Inc. / ESET, spol. s r.o. / GREYCORTEX s.r.o /
NEC Networks & System Integration Corporation / Palo Alto Networks, Inc.




Affiliations
Japan Card Data Security Consortium (JCDSC)
Japan Embedded Systems Technology Association (JASA)
Japan Israel Chamber of Commerce (JICC)
Japan Network Security Association (JNSA)
Cloud Information Security Promotion Alliance (JCISPA)
Kansai Institute of Information Systems (KIIS)
Licenses
Registered with Ministry of Economy, Trade, and Industry as Information Security Audit Firm
Registered with Ministry of Economy, Trade, and Industry as IT Deployment Support Service Provider
Ministerial Research and Development Management System (e-Rad) (Research Institution Number: 6075013876)
Telecommunications Carrier (License Number: C-26-01736)
Unified License to Tender for Central Government Agencies (Trader code: 0000168384)
License to tender for goods for the Osaka Prefectural Government
License to tender for goods for the Hyogo Prefectural Government
License to tender for goods for the Kyoto Prefectural Government
License to tender for goods for the Nara City Government
Accreditation by the Small and Medium Enterprise Agency for Business Growth Planning
Award for Excellent Company by the Hyogo Small and Medium Enterprise Technical and Business Evaluation System
Certifications
Certified Auditor for Information Security (CAIS)
Certified Information Systems Security Professional (CISSP)
Registered Information Security Specialist (RISS)
Information Security Management System (ISO/IEC 27001:2013 4208632) <Head Office>
History

March 2018

Commencement of sales of 'MENDEL'

January 2018

Suspension of ISO9001 certification of Kobe HQ

July 2017

Opening of office in Tokyo

April 2017

Commencement of operation of the Municipal Security Cloud

August 2016

Commencement of security education

June 2016

Transfer of HQ building to Kitanagasadori, Chuo Ward, Kobe City

November 2015

Acquisition of ISO9001 certification of Kobe HQ

May 2015

Acquisition of ISO27001 certification of Kobe HQ

November 2014

Opening of office in Kyomachi, Chuo Ward, Kobe City

September 2014

Establishment of Information Security Inc. as a company

April 2007

Commencement of Security audit and Forensics for government offices local government bodies

December 2006

Commencement of Information Security business
Organizational Structure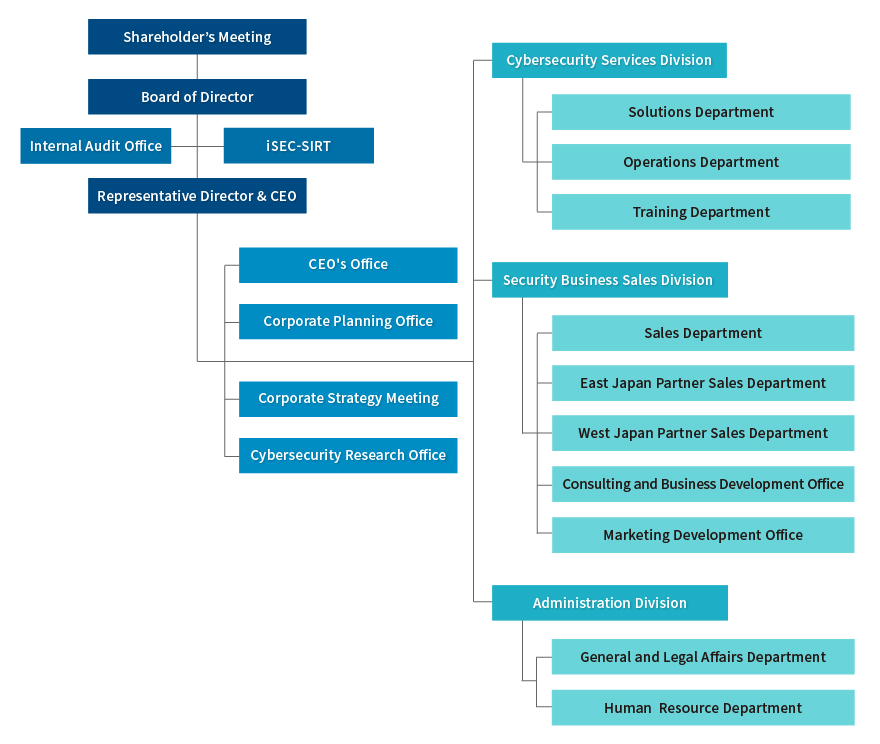 Department
Responsibilities
Contact number
1
Representative Director & CEO
Business planning, Risk management, General management
–
2
Internal Audit Office
Accounting audits, Operational audits (security audits, product quality audits, internal misconduct audits, labor audits)
–
3
CEO's Office
◇ Assistant to CEO: department coordination, external business coordination, internal announcements, recruitment, employee training, maintaining working environment, information analysis and review
◇ Business Strategy: product and service planning, marketing, business partnerships, international legal affairs and credit management, market research, business improvement, information analysis and review
◇ Management Strategy: business planning, risk management, improvement of management affairs, information analysis and review
◇ Assistant to CEO
078-381-8972
◇ Business Strategy
078-803-8989
◇ Management Strategy
078-803-8987
4
Cybersecurity Research Office
Technical research (including cybersecurity and encryption), research on Japanese and global companies and their products, vulnerability analysis on external networks and IoT devices and their functions
◇ Public Sector
078-381-8976
◇ Private Sector
078-381-8977
5
Development Dept.
Security-related product and system development, Cybersecurity-related information gathering and research, quality evaluation of internal systems and their functions
6
Operations Dept.
Security phenomenon advanced analysis (e.g. forensics), NOC and SOC (e.g. network operations, log analysis, malware analysis), security diagnosis (e.g. penetration tests)
7
Sales Dept.
Sales of cybersecurity products and supplementary services
◇ Head Office
078-381-8975
8
Consulting and Business Development Office
Consulting on cybersecurity system integration, architecture, etc. and business development
9
Marketing Development Office
Market research and publicity for business
◇ Head Office
078-381-8973
10
General and Legal Affairs Dept.
◇ General Affairs: internal affairs, trading business, managerial accounting, general affairs, classified document management, internal event planning, management support, internal system management, IT strategy, IT assets management infrastructure (construction, operation and maintenance), financial strategy planning, fundraising
◇ Legal Affairs: Contracts (Japan) , laws and regulations check
078-381-8978
11
Human Resource Dept.
◇ Human Resources: Human resource planning, Recruitment, Employee training, Assessment, Labor
◇ Education: Career development planning, Human resource development
◇ Internal Public Relations: information of new products and new employees
078-381-8974
Note: 'iSEC-SIRT' is the security incident response department. We prevent damage from spreading, gather and notify of related information and suggest strategies to prevent a reoccurrence. The 'Business Strategy Committee' is a committee established ad hoc for the purpose of making and implementing strategic decisions.
Philosophy
We aim to be a company that values the creativity of our people that contributes to the development of the society by suggesting and providing an optimal and high quality IT service.
Basic Policies
1. We strive to develop high quality service, to make sustainable improvements, and to enhance and stabilize the quality of our service.
2. We put utmost importance on a relationship with our clients based on trust and constant dialogue, and provide satisfaction and inspiration by providing them with the quality that they seek.
3. We put effort in making our employees grow in a flexible and progressive working environment, which respects each and every person's individuality.
Access
Head Office (Kobe)
2 minutes' walk from East Exit of JR Motomachi station
3 minutes' walk from West Exit of Motomachi station (Hanshin Electric Railway)
5 minutes' walk from East-2 Exit of Kenchō-mae station (Kobe Municipal Subway)

Branch Office (Tokyo)
〒108-0074
2F Fuji Bldg. 4-5-5 Hongoku-cho, Nihonbashi, Chuo-ku 103-0021 Tokyo, JAPAN
3 minutes' walk from South Exit of JR Kanda station
3 minutes' walk from Exit 2 of JR Shin-Nihombashi station
5 minutes' walk from Exit A8 from Mitsukoshimae station (Tokyo Metro)